Regular price
Sale price
$17.95 USD
Unit price
per
Sale
Sold out
Mizuho Goldfish Food is a High growth goldfish feed.
Guaranteed Analysis
Crude Protein (min) 48.0%
Crude Fat (min) 9.0%
Crude Fiber (max) 2.0%
Crude Ash (max) 17.0%
Phosphorus (min) 2.2%
Available bag : 300gr 
Share
View full details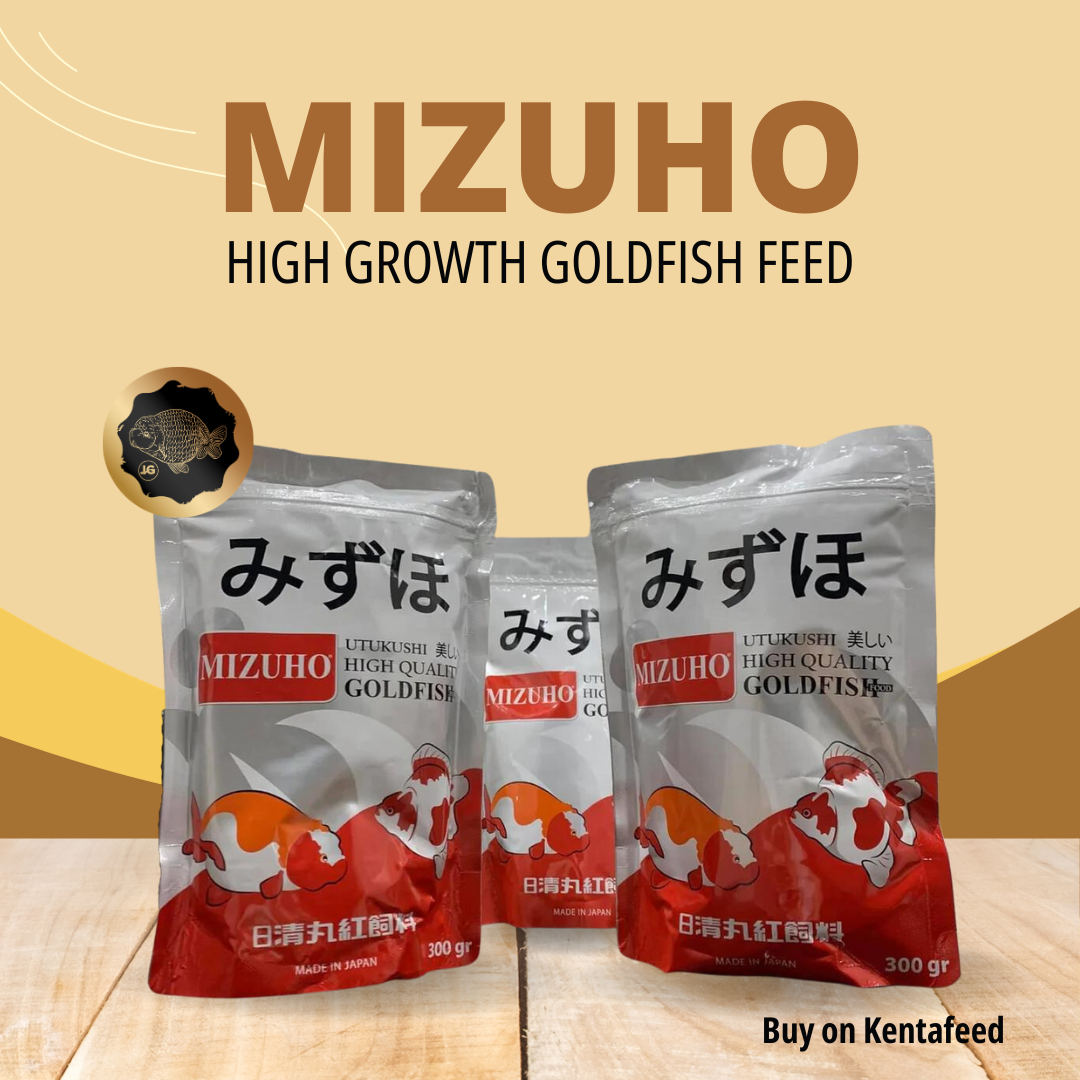 Love it
My goldfish love this food so far and I think yours will too. ☺️ definitely give this food a try!
Sensational
I have finicky fish; Lionheads, Oranda, Gooseheads, Ryukin, and pond goldfish all in a 15,500 gallon pond.
The pond goldfish rejected bloodworms, daphnia, and shrimp for weeks. They've rejected other brands of food I had that was supposed to be better for them.
I called them to eat. They swam to the steps where I feed them. I gave your growth pellets and gas food together. OH MY GOSH!!!! I've never seen them devour food like this before. I feed them 6 times a day. It's not like they were hungry. We have green water, frog eggs and tadpoles to eat along w/plants.
Well they loved it. When they were almost full, I gave them bloodworms or brine shrimp to finish off as breeder advised.
Three great things have happened since I started feeding my 40 little swimmers your food (we can't call them fish. My dog LOVES salmon and trout. She knows the word FISH 😋 Lol)
1) The stress of getting gas, sick, dying is gone. I'm new at this, I'm sure I over feed them, doing things wrong.
2) They have gotten noticeably LARGER in 3-4 weeks. The pond comets grew over an inch in 3 wks. Their bodies are so THICK. The store I gave/giving them to had never seen such fat, thick, healthy fish. Their colors are spectacular.
My 2.5-3" goosehead have grown close to an inch in 4 weeks. The larger Lionheads have gotten larger, my 7.5" boy is now 8.75-9". His so thick. It's amazing. Our heads are still ENORMOUS!!!
The 4.5-5.5" Oranda's grew over an inch. Our wens are spectacular.
3) There's no wasted food. No food floating off for me to try to catch and clean up.
My fish literally devour it immediately. They look sensational.
Food sinks immediately.
A worker from aquarium store was at my house/pond when I was feeding the swimmers. He was amazed to see how fast it sinks. Asked me what I was feeding them. He wanted to order it for his store and personal fish.
Thank you for supplying this fantastic product.
Mizuho Goldfish Food 300g Sinking Pellet 1.3-1.5mm
All of my goldfish do not like these pellets. I even tried to starve them but they still waited for the previous brand food.
Love it
Heavy feeding my fish and doing daily waterchanges crazy how much they have grown in 2 weeks highly recommend mixed with gas relief